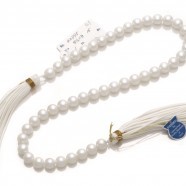 Mikimoto pearls still bear the name of pearl culturing pioneer Kohichi Mikimoto. Mikimoto is credited with bringing cultured pearls to the international stage and market. In Japan, Mikimoto is considered a national hero.
Mikimoto pearls are renowned for their incredible luster and beauty. A Mikimoto pearl necklace made from genuine Mikimoto pearls is truly a work of art. Mikimoto pearls are very high quality Akoya saltwater cultured pearls. A Mikimoto pearl is very beautiful.
As Mikimoto was the driving force behind new pearl culturing innovations, there are many Akoya farms now in Japan that culture Mikimoto quality pearls available to pearl connoisseurs without the Mikimoto pearl prestige pricing.
Mikimoto pearls and a Mikimoto pearl necklace are truly wonderful luxuries!
(Visited 1,446 times, 1 visits today)