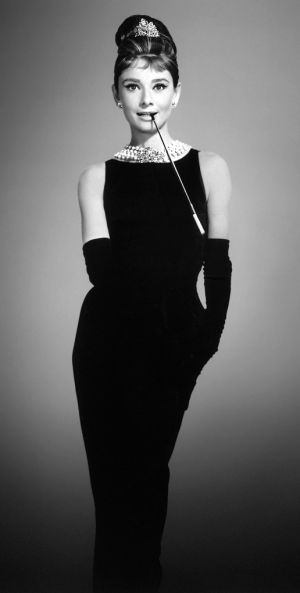 The little black dress (LBD) and pearls have been going hand in hand since Coco Chanel changed the world of women fashion back in the 1920s forever. The famous designer introduced the little black dress as a mandatory piece in any woman's wardrobe. Since then, there isn't a more stylish, timeless, elegant and refined piece of clothing a woman can wear. A staple of simple sophistication, the epitome of versatility and the crown jewel of a tasteful wardrobe, the little black dress has no match. Coco Chanel was also the woman who loved pearl jewelry beyond imagination, bringing it into the spotlight and turning it into a veritable icon of femininity. Women today know they can't go wrong with a mix of a little black dress and pearl jewelry to make a memorable appearance in any occasion and they all have to be grateful to Coco for leaving behind this immortal legacy.
1. The Strapless Little Black Dress
No matter its length, a strapless LBD is a symbol of taste and style. It is usually worn at special occasions, such as cocktail parties, wedding parties and formal events in general, but depending on how you style it with pearls, you can wear it for a fun girls' night out, a date or a semi-formal dinner.
What Pearl Jewelry Goes Well With a Strapless Little Black Dress
1. Formal occasions
2. Informal occasions
For a trendy and bold look, pick a chunky statement necklace mixing pearls with other gems, rhinestones, combinations of metals and other precious or semi-precious stones. If you can't find such a necklace, stack your classic white pearl choker with others, such as metallic chains and strings of beads and stones. For a bit of symmetry, wear a small, refined white pearl ring. You want to draw attention towards your neck and shoulders, so this is why your pearl ring and studs should be discrete.
EXTRA TIP: You can follow the same recommendations on wearing pearl jewelry if you wear a spaghetti strapped little black dress as it too will highlight your neck, shoulders and facial features.
2. The V-Neck Little Black Dress
This type of dress is perhaps even more versatile, as it may come with straps, and short or long sleeves, being suitable for office days, formal occasions, parties, dates and formal/casual dinners. To style up this type of dress, you have to focus on the neck/cleavage area.
What Pearl Jewelry Goes Well With a V-Neck Little Black Dress
1. Formal Occasions
EXTRA TIP: You can choose the color of the pearl pendant or Y necklace depending on your skin tone and eye color. It is recommended to wear pearls that match your skin tone and give it more shine and appeal. Pink, lavender, champagne, olive-hued pearls can make terrific accessories, turning you into a staple of beauty and femininity.
2. Informal Occasions
3. The Crew Neck Little Black Dress
Such a dress is incredibly versatile and can be worn at work or black-tie parties with no problems. It can also be the perfect canvas you can paint on with a myriad of pearl jewelry pieces. It allows you to be a different woman every day only by changing the accessories here and there.
What Pearl Jewelry Goes Well With a Crew Neck Little Black Dress
1. Formal Occasions
2. Informal Occasions
There are plenty of other types of little black dresses out there, sporting off-shoulder designs, long or short sleeves or boho cuts. What you need to remember is that you can wear pearl jewelry with any type of little black dress as long as you follow the rules of mixing accessories. What is your favorite mix of LBD and pearl jewelry? What do you usually wear?
(Visited 1,687 times, 1 visits today)