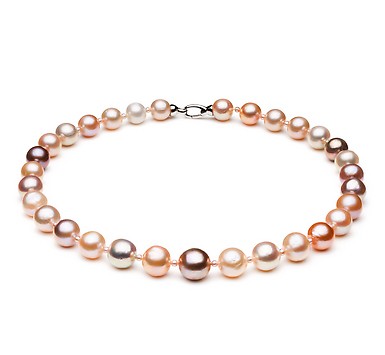 The Edison pearl is the largest freshwater pearls available on the market and produces colors that are simply unmatched by most other pearl options. They are still pricey, but affordable if we compare them to the price of pearls less than 40, 50 years ago. Why is that?
Freshwater pearls have changed
About a century or a little more, pearls were so valuable that a single string of naturally formed pearls could net you a mansion on Park Avenue in New York city and it would have been considered a fair trade. Nowadays it seems as though pearls are becoming more affordable than ever before. While these Edison pearls are still expensive (make no mistake about it) they are more affordable than pearls were before.
The reason behind it is that China has taken over the cultivation of freshwater pearls. China has a larger work force, a greater landmass, and more affordable labor when compared to Japan. As a result, China has become the leading source of freshwater pearls and has even come up with innovations such as the Edison pearl.
The development of the Edison pearl
The manager of Grace Pearl – Zhan Weijian – is the mind behind the Edison pearl and one of the most influential people in the pearling industry. Grace Pearl is one of the largest companies in the freshwater pearl farming industry. Mr. Weijian believes that pearls are going to retain their luster and attractiveness even if it means that most people can afford them.
Owning pearls is more affordable
While some saltwater divers are feeling the economic impact of these beautiful freshwater pearls, it might be the first time that the average consumer is able to afford genuine pearls.
(Visited 621 times, 1 visits today)