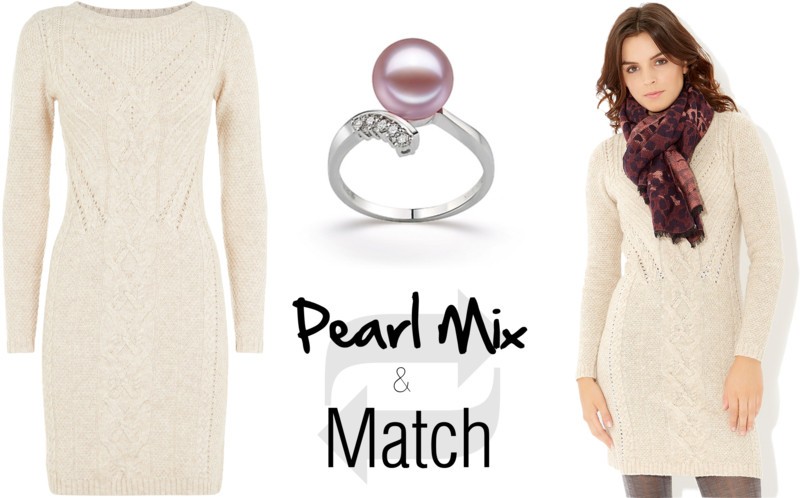 We, at Pearls Only, are forecasters of stylish must-haves items! We are constantly searching for items to add to our collection of great clothing and accessory items. We look forward to sharing with you clothing and accessories that you are in need of for your growing wardrobe!
Today in our "Pearl Mix & Match" we fell in love with a cable knit dress that is made for a stylish Fashionista, and a pearl necklace that is perfect for all occasions. The great combination of this dress from us.monsoon.co.uk and beautiful pearl ring by Pearls Only is a fashionable look for everyday!
What we like about this Frida Cable Dress from Monsoon UK is that is cable knit jumper dress is simple and fashionable which makes it perfect for staying warm while looking quite chic. We also love the comfortable fit and great detailing to the knit design.
The best accessory for this darling dress is the Grace Ring – Lavender AAAA 9-10mm Freshwater Pearl Ring from Pearls Only which is created from a genuine high quality freshwater pearl, 5 sparkling diamonds and 14k white gold.
How to Wear
To make a look complete and totally in style, wear with a pair flesh tone tights, a pair of flat knee high leather boots and a fashionable scarf for a great fashion finish fit for the office and the mall.
You can find this dress at us.monsoon.co.uk for $105.00 and the gorgeous ring at Pearlsonly.com for $365. Although the ring may seem price, it is well worth the investment.
What do you think of this cool accessory combination? How would you style the items? Would you invest in the items in our Pearl Mix and Match?
Are you interested in seeing more fashion-forward trendy clothing? Let us know…
Photo Credit: Pearls Only// us.monsoon.co.uk
(Visited 174 times, 1 visits today)