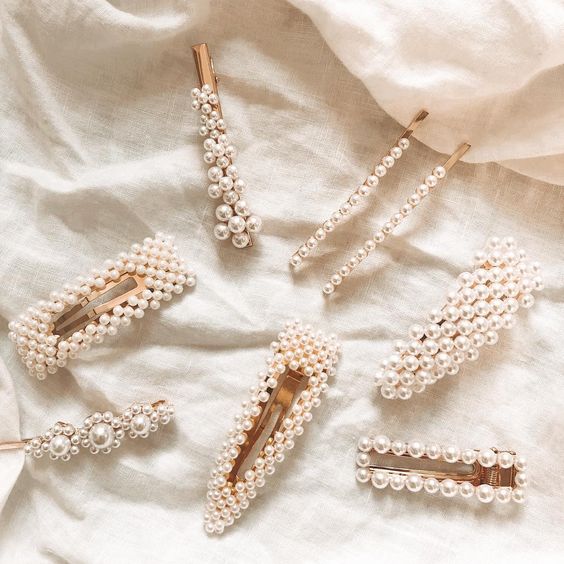 The wonderful thing about things that are back in trend is that they come back better and stronger.  This is something we can definitely say about pearl hair clips.  These along with other kinds of pearl hair accessories are proving very popular now.
Back in the 1990s you properly had several kinds of hair clips along with hair barrettes and loved wearing them.  Then suddenly by the middle of the last decade, you got rid of them all.  Well, I bet you wish now you had kept them?
Like other types of hair clips, ones that include pearls in their design are trending as we speak.   Never have these beautiful gemstones been more current and chicer.  They provide you with many ways to dress up your hair.
In fact, you'll find that hair clips are the biggest beauty trend for this year (2019).  Everything from hair clasps, pretty sliders, and silk headbands are the must-have accessories for your hair this year.   Everywhere you go now you'll see women sporting all kinds of stunning hair accessories many favour big pearl hair clips.
How To Wear Pearl Hair Clips
As with any fashion trend, you will find that you've got plenty of different options to choose from when it comes to hair clips.  However, make sure that you select from the wide range of pearl hair clips that will not tug on or break your hair.   Plus it is important that you buy pearl hair clips that that suits your hair texture so that they don't seem to get lost when worn.
Great for seeing how to wear gold pearl hair clips or pearl and diamond hair clips is to go online.  Places like Pinterest and Instagram will provide you with some great ideas.  As you look for women whose hair is of a similar length, texture, and colour as yours.  Then see how they mix and match different hair accessories together.
The wonderful thing about pearl hair clips is that they are available in a wide variety of different prices.  So finding pearl hair clips sets that suit your own particular budget shouldn't prove difficult.
The beauty of the pearl hair clips trend is that not only are these hair accessories versatile, but also very adaptable.  So you shouldn't be afraid to experiment with yours and come up with a look unique to you.
Girly But Chic Look
Off to brunch with your best friend or colleagues from work, simple pearl embellished hair clips will add a touch of chicness to even the most casual of outfits.
Try the layered look.  If your hair is long enough gather it to one side then secure in place with a couple of small pearl hair clips.  Place them one under the other.  You could also be a little bolder and mix and match with other kinds of hair clips.
Cool But Edgy Look
Oversized pearl hair clips are the perfect hair accessories to give you an edgier look.  Such accessories would look stunning if you choose to team them with your little black dress on a night out or with a smart suit to work.
These types of pearl hair clips look wonderful on women with sleek straight hair or when worn at the side with a ponytail or bun.
Going On A Romantic Date
When going out for the night on a date with your partner wear your pearl hair clips set.  Use them to pin your hair to one side of your face, making sure that they compliment the rest of your outfit.
Also, a little bit of glamour won't go amiss by wearing some beautiful ivory pearl hair clips or silver and pearl hair clips.  These will add that final feminine touch to your outfit.  But if your partner will take you somewhere a little fancier for dinner then opt for pearl hair clips that have more embellishment to them.
How To Style Pearl Hair Clips
When it comes to the wearing of any kind of pearl hair clips placement is key.  Make sure that you insert these clips into your hair in a way that they help to accentuate your cheekbones and eyes.  For example, place them just above your ear.
Also never be afraid to wear only one pearl hair clip.  Instead of just using one to keep your hair in place, use two or three that you place at equal distance from each other in your hair.
Pearl hair clips can definitely add to your look, but it doesn't mean that they need to take center stage.  Instead, take one or two hair clips (especially big or embellished ones) and wear them behind your head for a stylish look.
I know we've spoken a lot about pearl hair clips but there are plenty of other kinds of pearl accessories that you might invest in.  All of the items below will provide you with various ways to help decorate your hair and create some stunning and unique looks for you.
Pearl Headband
There is something extra special about a headband that is adorned with pearls.  You can wear this fun accessory whenever you like and will add a regal touch to whatever outfit you choose to wear yours with.
Pearl Pins
To create a more playful look mix various different size pearl pins together.  The various different sizes of the pearls in these hair accessories will give your hairstyle a more eclectic look.
Pearl Bow
Like pearl hair clips, bows that include pearls in their design are very much on trend at the moment.  Look for ones that they make the main part of the bow from a luxurious velvet type material on to which they have adorned several pearls.  This simple but beautiful hair accessory will add a touch of opulence to any outfit you choose to wear yours with.
Pearl Part
Do you find it hard to get your middle parting exactly right?  Well, worry no longer as you can embellish your crowning glory with pearls of graduating sizes.  These kinds of hair accessories will help to give you a very bold but modern look to your outfit.
So as you can see from above finding a style of pearl hair clips or other pearl hair accessories shouldn't prove difficult.  But it is important that you select hair accessories that are suitable for the kind of hair that you have.
So What Kinds Of Pearl Hair Clips Should You Wear?
If you want to keep things simple then go for some bobby pin or classic hinged barrette hair clips.  These can be worn in your hair to say keep it off of one side of your face.
However, if you would prefer to wear something that will allow you to make more of a statement, then choose some alligator hair clips that have been embellished with pearls and maybe other gemstones.
If your hair is long but you don't want all the hassle of having to tie it up then you could also opt for wearing a banana or claw hair clip in yours.   In fact, claw clips are very popular these days as they are easy to hide yet can still add a touch of glamour to your outfit.
As claw hair clips come in various different sizes they can be worn with all kinds of hair textures.  Larger ones that include large pearls in the design are great for wearing with thicker hair.  Whereas smaller size ones are suitable for wearing to help hold fine hair away from the wearers face.  Just make sure that you choose ones that also suit your skin tone and colour of your hair.
Okay, you may just want to use your pearl hair clips to keep your hair off of your face, but it doesn't mean you have to wear a large one that will attract a lot of attention.  What you should wear is something that is very simple in design.  For example, a banana hair clip that is embellished with small pearls along just one edge.
Hopefully, the information we've provided above about pearl hair clips will give you some great ideas of how to wear this popular hair accessory this summer.   Not only will you look great, but you will feel great.  Nothing adds a touch of beauty and class to any outfit that some stunning pearls.
Here at PearlsOnly.com, we can offer some beautiful pieces of pearl jewelry that would look stunning when teamed with any kind of pearl hair clips.  So why not take the time to peruse our collections.  You could even think about buying some of our beautiful loose pearls, which you can then use to create hair clips that are unique and help to show off your personality even more.
(Visited 475 times, 1 visits today)