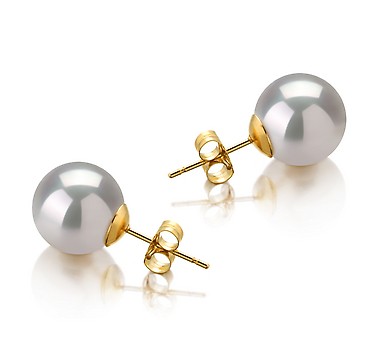 Modesty and class is most important on your wedding day and we at Pearls Only feel that you can easily stay in this mold with our gorgeous collection of white pearl earrings. The earrings come in all shapes, sizes, styles, qualities, finishes, and prices making it easy for any bride to get the look that best fits her style and her budget, which is VERY important.
Our earrings are not just from one day, but they are a keepsake and an item that makes memories that will last a lifetime and beyond!
Now that wedding season is closely upon us, it is time to show off some of our best earrings for Bride's To Be. Pearls Only, has added a few overwhelming styles and designs that are sure to gain attention from all.
Below are earrings that we believe are perfect for a wedding day!
White AAA 10-11mm South Sea Pearl Earring Set- $655
Got a love for simplicity and class? If so, these earrings are for you. These earrings bring together the classic pearl studs into the modern world fashion with gorgeous 14k Yellow Gold Earring posts! What ready makes these earrings come to life is that they are South Sea pearls which are rare and beautiful.  Any bride will look amazing in these pearls!
Katie Heart Earring Set – White AA 7-8mm Freshwater Pearl Earring Set- $65
Want to show off your love and commitment to being a "Mrs."? Then these are the pearl earrings for you. The Katie Heart earrings are adorable and will be a great addition to your wedding day wardrobe. The white freshwater pearls surrounded by sterling silver hearts are just lovely for this special occasion.
Santina Shell Earring Set – White AA 6-7mm Freshwater Pearl Earring Set- $55
We adore these earrings because they are unique and beautiful. The Santina Shell earrings are the perfect accessory to a strapless dress with hair pulled up to show off the sexy and sleek dangle of these fresh water pearl earrings.
Bianka Earring Set – White AAA 10-11mm South Sea Pearl Earring Set- $799
Talk about making an impression! These earrings are fit for a princess bride! They are white South Sea cultured pearls with fancy 14K yellow gold posts and eight gorgeous and sparkling diamonds. They are a keepsake and they are bound to be the item that all your Grandchildren will want to be passed down to them in the future. Let them dangle and shine as you dance the night away with the one you love.
Ivana Earring Set – White AAA 10-11mm South Sea Pearl Earring Set- $1049
Nothing says, "I am getting married", than these darling earrings. They ask for attention and that is just want you are bound to receive when you pair these earrings with your beautiful wedding dress and neat up-do hairstyle. These white South Sea cultured pearl earrings are matched with 14K yellow gold earrings posts that are shaped into a butterfly. They are finished off with eight sparkling diamonds. Class and chic!
Are you ready for your big day? What do you think of these earrings? Would you wear?
For more beautiful pearl jewelry visit: www.pearlsonly.ca
(Visited 203 times, 1 visits today)