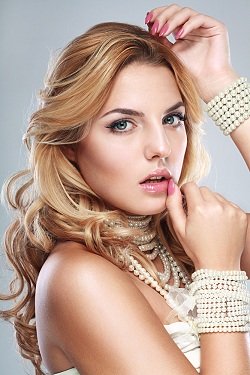 Do you know what is even better than a string of pearls? More strings of pearls! Today's fashion trends seem to go beyond the borders of the classic pearl wearing etiquette focusing on pearl layers as the ultimate statement of glamorous elegance. Just as Coco Chanel said, "a woman needs ropes and ropes of pearls" and her affirmation still stands almost a century later. Some might think that wearing pearl layers are reserved for high-end pretentious events such as galas, black-tie parties, benefits and so on. It makes sense at a first glance: pearl layers turn an outfit into a statement-like, shiny and opulent piece which may not work at the office or in the park.
Contrary to popular belief, however, pearl layers (be them necklaces, rings or bracelets for instance) go amazingly well with office attire, casual outfits and laidback fashion choices as long as you know how to wear them. If you remember the early 2000's Boston Legal drama/comedy you still have in mind attorney Shirley Schmidt's demure office combos styled up with heaps and heaps of pearls and massive statement jewelry pieces. And if it worked ten years ago, it still works now, as this is the beauty of pearls: they are timeless and their power endures. Today we will give an old trend a fresh approach: wearing pearl layers for a chic, contemporary, and ultra-feminine look.
Pearl Layers: Necklaces
The most revered style of wearing pearl layers is by stacking multiple pearl necklaces or combinations of pearl necklaces and chains or other strings of beads, cubic zirconia, semi-precious gemstones and so on. A woman can look slightly out of place if she wrongly layers a Freshwater white pearls necklace with other types of necklaces, this is why we want to remind everybody some simple rules of stacking.
For a feminine and demure look mix two or three short metal chains in gradual length and a longer pearl necklace or, even better, a chic pearl pendant in the same metal as the chains. This is a refined and "quiet" manner of layering pearls for office days, dates, casual outings and parties. This type of pearl layering goes great with V necklines, buttoned office shirts, crew neck and turtle neck dresses.
Think in reverse: mix a classic pearl choker with longer chains for a street-smart look and wear the combination with tops, jeans, jackets, dresses with no shoulders and so on.
The easiest way of wearing pearl layers is to wrap your neck in a long rope pearl necklace to achieve a multiple strings style. Such approach allows you to wear an office dress, jeans and shirt, a shirt and slim fit jacket business attire, a slouchy summer printed dress, a little black dress for parties and so on.
If you want to mix multiple pearl necklaces in various lengths remember that pearls are not all white. You can achieve a spectacular feminine look if you add one pink pearl necklace to the white pearl necklaces mix.
A glamorous event and a stylish evening gown make the best occasion for you to style up your pearl layers with a diamond or cubic zirconia brooch for an elegant, statement-like look. A brooch can be attached to a single rope pearl necklace or to multiple strings of pearls, chains and other necklaces to pull the mix together.
The level of glamorous elegance is more often than not associated with the number of pearl layers. In other words, the more pearls, beads, gemstones and metals you add, the flashier and more impressive you look.
Pearl Layers: Bracelets
A pearl bracelet is the epitome of femininity and good taste, being versatile enough to find its place in formal, casual and elegant attire. Stacking bracelets is an art and a science and we will take a look at how you can wear pearl layers as bracelets no matter the occasion.
The easiest way to wear a layered pearl bracelet is to get a double strand pearl bracelet in the color you desire.
A more glamorous effect can be achieved if you wrap your wrist in a long rope pearl necklace, using a brooch to tie loose ends.
You can also layer multiple white pearl bracelets with a black pearls bracelet or a multicolored pearl bracelet for a charming, feminine and laidback look – going amazingly with summer office or casual outfits.
Pearl bracelets go great with metallic chains or bangle bracelets as long as you remember that golden plays on the more formal side, while silver can cover everything from morning office meetings to club outings and casual dates. You can even wear cubic zirconia or crystal bangles in between pearl bracelets or bangles. The "wow" effect of such mix will make you stand out of the crowd at parties and formal, high-end meetings or events.
For a more toned down look you can stack two or three pearl bracelets or layers, but for a sophisticated, elegant and high fashion setting you can stack as many layers you want. You can even add a charm pearl bracelet in between layers of pearls at wedding parties and classy events.
Pearl Layers: Rings
The classic way of wearing stacked pearl rings is to layer the pearl engagement ring with the wedding band – a style that stands and will forever stand the test of time. However, depending on the pearl ring you choose you can layer it with other rings as well – thus breathing new life in the rings you love and embracing a fashion trend that is all the rage right now!
If you want to mix a thin delicate pearl ring with other thin rings in a band shape make sure the pearl ring is placed at the base of your finger and all the rings are made in the same metal.
A bold look means layering and stacking a statement cocktail pearl ring with other rings – but never go too far. If you wear multiple big and chunky statement rings you will look like you are trying too hard. Instead, tone down the pearl cocktail ring with thinner band rings for a balanced look that goes great both in the office and at a dinner party later in the evening. Also remember to place the cocktail pearl ring at the base of your finger and finish the look with a thin subtle midi ring.
As a general rule, if you opt for the stacked rings style and adorn your hands with many rings, don't wear bracelets as they will make you look like trying way too much. For a consistent and complete look, pull your entire outfit together with a discrete pearl necklace or pearl pendant in case you want to make your hands stand out.
How do you like wearing pearl layers? Do you keep your pearl necklace or bracelet for special occasions or do you mix them together with other chains, strings, beads, stones and gems for a contemporary, chic look?
Image sources: 1, 2, 3, 4, 5, 6, 7
(Visited 171 times, 1 visits today)