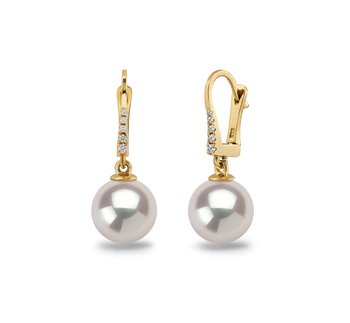 There are certain items of jewelry that all women should own.  Along with a pearl necklace, all women should have at least one pair of beautiful pearl earrings in their collection.
Any set of these earrings whether studs or dangle types will add another touch of femininity to any outfit that you choose to wear them with.   But with so many different styles of earrings to choose from today, how do you go about deciding what ones you should be wearing.
Just because you've decided to wear pearls it doesn't mean you have to look outdated.  It is now possible to wear pearls without losing that modern edge.   Yes, this type of jewelry is the epitome of elegance and will instantly add that all-important touch of sophistication to what you wear them with.
Know When And How To Wear Pearl Earrings
The first thing you need to remember is that pearl earrings look best when you have carefully matched them for the occasion on when they will be worn.  If you would like to know how to wear pearls, you need to know how to wear them.
How To Wear And Pair Your Beautiful Pair of Pearl Earrings
There are certain items that should be a part of any woman's wardrobe.  No woman's wardrobe is really complete without that all-important little black dress and the right pair of pearl earrings.   These types of earrings are actually very versatile and can help you create a classy look whether out for lunch with friends or in the office.
In fact any style of pearl earrings stud, dangle or drop are the best and easiest way for you to dress up any outfit you choose to wear them with.
What Types Of Pearl Earrings Can You Wear Today
Below we take a look at the top seven styles that are favoured by women of all ages and how they should be worn.
Pearl Earrings With Gold Setting
The combination of pearl with gold is especially good for wearing to work.  The great thing is that such earrings can be worn at any time of the day you want.  Not only do they look pretty they can also become a statement piece of jewelry.
A pair of pearl earrings that are made up of black freshwater or Tahitian pearls would look great when you team them with a pair of jeans and a white t-shirt, as well as with your LBD for a night out.   Keep it simple choose a pair of earrings with a simple hoop mechanism that allows them to dangle just below your ears.
Pearl Earrings With Diamonds
Opt for a pair of classic style pearl earrings with diamonds in the design.   A pair of this type of earrings should be a must for any woman to own.  At some stage in our lives, we women will attend events such as family gathering (wedding), or a more formal event, such as your child's graduation that requires you to wear a more formal outfit.  It is therefore important that you wear jewelry that is suitable.
Not only do a classic pair of earrings with diamonds make a big difference, but are the perfect accessory to be worn with more formal attire.  They will certainly prove a big hit with not only you but also those around you.
Drop Pearl Earrings
These are a style of earrings that look good no matter what kind of outfit you choose to wear them with.  They aren't too much, yet aren't too simple so that you can still make a statement when wearing them if you like.
Not only do drop pearl earrings look classy but they like so many other earrings containing pearls in the design and versatile.  Why not team a beautiful pearl of black Tahitian or white pearl drop earrings with say a bright summery outfit.  You could of course team your pair of these earrings with a beautiful pearl necklace or pendant and a low cut or off the shoulder little black dress when going out for dinner with your partner.
Statement Pearl Earrings
A pair of stunning and beautiful black Tahitian pearl earrings whose pearls measure between 10 and 11 mm in diameter is the ideal statement piece of jewelry.  If you are intending to wear such earrings you must pay close attention to what other aspects of your appearance that you wish to emphasize more.
Certainly, if you want to accentuate the slimness of your neck or to help accentuate your cheekbones more choose a pair that sit in line with your cheekbones.  You may also want to consider pairing such earrings with a classic white or a black pearl choker.  You could even choose to pair your statement pearl earrings with a necklace made up of several strings of pearls.
Wear Two Pairs
If you have had your ears pierced several times in different locations, then why not think about wearing two different styles of pearl earrings at the same time.  For example, if you have a piercing at the top of your ears, wear a small pair of stud pearl earrings here that measure say between 7 and 8.5 mm in diameter.  Then in a lower piercing wear a pair of pearl dangle earrings that contain slightly bigger size pearls.
What is important to choose two pairs of pearl earrings that are of a similar style and of course colour.   Not only can you wear these when going out for lunch with your best friend or work colleagues, but will look stunning when worn with more formal attire.
Dangle Pearl Earrings
This style of pearl earrings is proving popular with women young and old today.  They differ somewhat from the more delicate drop pearl earrings that have been favoured by women for quite a number of years now.  The whole aim of such a pair of earrings is to help really showcase the beauty of the pearls that hang from them.  They will add a real touch of spice to any outfit you choose to wear them with.
Owning a pair of dangle style pearl earrings is a really great idea.  Ones that include white or black cultured freshwater pearls in their design aren't only beautiful looking but tend to cost less than say ones contain South Sea or Tahitian pearls in them.
Stud Pearl Earrings
Finally we come to what we consider the most important pair of pearl earrings that any woman should own.  As these types of earrings tend to contain smaller size pearls in their design you often find that they are more comfortable to wear, but they are definitely in fashion at the moment.
Most women tend to think that wearing pearl earrings should only be kept for those special occasions.  But this simply isn't the case, you could wear stud pearl earrings whenever you like.   As they come in a variety of different colours now you can choose a pair that matches not only your skin tone but the outfit you are wearing.
This style of earrings not only is very chic but will add a touch of class to any outfit, including when being worn with your favourite pair of jeans and a t-shirt or blouse.  Yet they still look elegant when you wear them with your business outfit or that elegant little number you brought for going out to dinner with your partner.
This style of pearl earrings may look simple in design but will help to brighten up an outfit.  To further enhance the beauty of such earrings you could choose to wear them with a matching pearl necklace, bracelet, pendant or ring.   The world is your oyster (no pun intended) when it comes to how you wear such earrings.
If you would like to take a look at the various different new styles of pearl earrings available, then take a look at our New Arrivals collection here at PearlsOnly.com.  We have simple studs to more elegant and decorative designs include ones that include gold, diamonds, and pearls in them.
At PearlsOnly.com, we have a wide selection of different styles of pairs of pearl earrings for you to choose from so finding a pair that suits your particular tastes shouldn't prove difficult.  You will also find we have a wide selection available that will suit all budget constraints.  So you could soon be the owner of a stunning pair of such earrings that your friends and family alike with love and admire.
Nothing really says class and elegance than a beautiful of pearl earrings that you can wear whenever you like.   All helping to enhance your looks and really helps to bring out the beauty in any woman's face.
(Visited 164 times, 1 visits today)