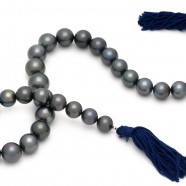 Tahitian pearls are very large, very bold and definitely very opulent. As a result, Tahitian pearls and jewelry such as a Tahitian pearl pendant, necklace or a set of earrings, have become some of the rarest and sought after jewelry items today. Their luster and color are legendary. In bygone times, European royalty sent fleets of ships half-way around the world for Tahitian pearls.
The legends of Tahitian pearls date back centuries. According to some legends, Tahitian pearls had a key role in the famed Mutiny on the Bounty.
When the HMS Bounty, left Tahiti, the tribal Princess gave Fletcher Christian precious Tahitian pearls to remember her. The two had fallen in love and there would have been little chance for the HMS Bounty or her crew to ever return to island paradise. On this voyage, the Tahitian pearls sang and compelled Christian to lead the famous mutiny and return to his island love.
Words almost fail to describe the incredible beauty of Tahitian pearls. Just like Venus, the Roman goddess of love, Tahitian pearls are born of the sea. So, jewelry such as a Tahitian pearl pendant often echoes the colors from their home. Waves of color ebb, flow and seemingly play across the surface of Tahitian pearls of a lovely Tahitian necklace.
Tahitian pearls wear the rich tones of the ocean in silver, blue and green. These colors dance in the deep black luster of a magnificent Tahitian pearl necklace and matching Tahitian pearl earrings. As a wonderful treat, a Tahitian pearl pendant is also just a bit of paradise.
Tahitian pearls are bathed in all the colors of the sea. Pale blue lagoons, warm rich green reefs, dark deep ocean waters, silvery reflections from the moon and golden reflections from the sun are all reflected in Tahitian pearls. Paring a lovely Tahitian pearl pendant with a set of matched Tahitian pearl earrings will be simply stunning!
Tahitian pearls convey an air of opulence and mystery while retaining the classic allure and elegance of traditional pearls. Today, Tahitian pearls are still cultured in the grown in the pure, clean waters near the Island of Tahiti. Jewelry made with Tahitian pearls including Tahitian pearl earrings and a matching Tahitian pearl necklace or a Tahitian pearl pendant are very all poignant yet classic adornments for those with truly refined tastes.
When you put on your first set of Tahitian pearls, you will feel their radiance and history. Whether in a Tahitian pearl necklace or Tahitian pearl earrings, Tahitian pearls are simply one of the most beautiful creations Mother Nature has given to us.
(Visited 136 times, 1 visits today)