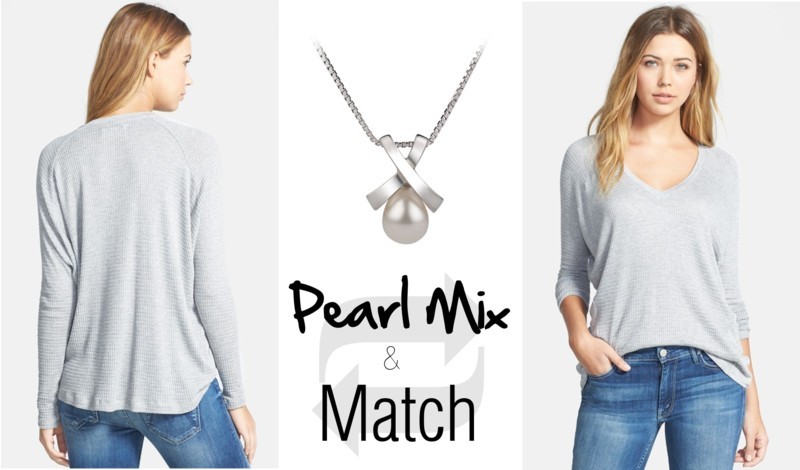 We, at Pearls Only, are forecasters of stylish must-haves items! This causes us to constantly searching for items to add to our collection of great clothing and accessory items. We always look forward to sharing with you clothing and accessories that you are in need of for your growing wardrobe!
Today in our "Pearl Mix & Match" we are going to show you a simply chic sweater and a pearl pendant that looks completely amazing together! The combination of this cute grey sweater from Nordstrom.com and beautiful pearl pendant by Pearls Only is a fashion must-have for every Fashionista!
You have to love a top that is this simple because it can be worn for any occasion, effortlessly. This cute grey Textured Knit Sweater by Velvet by Graham & Spencer features an alluring V-neck and a flouncy hemline. We love that the sweater is a lightweight thermal fashioned from a stretchy knit blend that was made in the USA of imported fabric.
The sweater will look amazing with the Empress Pendant – White AA 7-8mm Freshwater Pearl Pendant because it is a great update to the classic pearl pendant. The very chic and modern edge makes the pendant perfect for dress up and to add a little panache to casual wear. This gorgeous white pendant is created from genuine high quality freshwater pearls.
For the office: pair with black work slacks and chic flats.
For the weekend: pair with chic jeans and sneakers heels for a fun and effortless look!
You can find the sweater at Nordstrom.com for $106.00 and the pendant at Pearlsonly.com for $69, making the exactly $175. A small price for great quality!
What do you think of the look? Are you interested in seeing more fashion-forward trendy clothing?
Photo Credit: Pearls Only//Nordstrom
(Visited 149 times, 1 visits today)