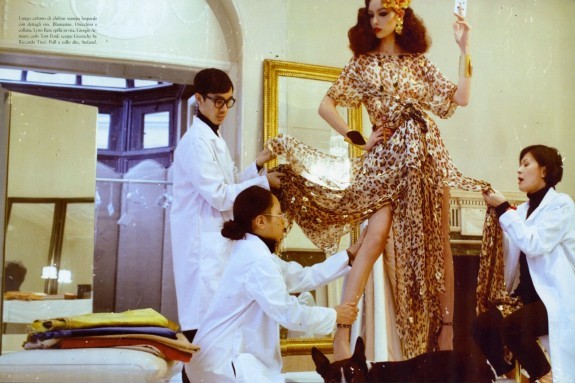 While many Fashionistas have great style and an excellent sense of fashion, it takes a keen eye and detailed knowledge to be a fashion stylist or image consultant. As a fashion enthusiast, you think that you have what it takes to be a fashion stylist. You may get a lot of hits and comments on your OOTD (Outfit of the day) postings and everyone seems to love your style, but there is so much that goes into fashion styling than clothes. Their days end late and their mornings start early. Although it looks like an easy task and absolutely glamorous, in most cases the hard work and fast-pace movement can overshadow the ideal of fun and fancy.
A true fashion consultant is up and about no later than 6 a.m. going through their emails and responding accordingly. They are thumbing through their latest fashion magazines and browsing the internet in order to keep up on the latest trends. This is very important to a stylist because they have to be in the know about textures, brands, patterns and colors no matter what field of fashion styling.
They are educating and reeducating themselves on fashion. If a stylist is in wardrobe, props, or editorial, they may have to use pieces that are dated. For this, they have to know that they are using clothing that fits the era. Many fashion stylists realize that there is a lot of competition in the fashion industry so it makes sense to be prepared with a great amount of fashion knowledge.
Meetings have to be arranged and that can be very time consuming. There are meetings with potential clients to create a storyboard that will help them reinvent their image; speaking with designers to help them create an editorial; or consultation with a person that is looking to improve their wardrobe so that they can look their very best.  According to fashion stylist and shoe designer, June Ambrose, "Fashion is about self-expression and a statement about our times, and it's my job to market my clients in a way that will reverberate with fans."
All meetings are important to the business in order to help build the brand and to make money.
After several meetings, stylists are off to the fashion showrooms to keep up with their accounts. It is important to remain in good standing with fashion designers and showrooms because you depend on them to reserve clothing for you. Stylists also have to pull clothing and do fittings for their clients. A stylist has to be on point with the clothing they choose because it can make or break their career, their clients, and also the designer.
When the fittings and pulling are completed, it is back to the office for organization. A fashion stylist has to be very detail oriented and keep up with all financial records. To lose track of financial affairs could mean losing money. They also have to keep client records. According to Misa Hylton, fashion educator and stylist to high profile artists like Mary J. Blige and Queen Latifah, "That is the most tedious and important part of the business. This is why I teach it at my academy." A stylist must keep record of the clothes they pull, when it is to be returned, or when to make payments. They are also responsible for keeping an organized closet. "I'm very organized!" Ms. Ambrose tells About.com. "Accessories are on one side, including shoes, bags and jewelry. My wardrobe is arranged by silhouette, color and day-to-night pieces. All of my casual pieces are folded. Matching hangers are also a must for me."
Once the closet is organized, going over the next day's schedule is in order. Checking emails and social media again to follow up and respond. And in some cases, they are preparing for an evening event. There could be a chance that a stylist does not have the opportunity to stop by their office.
Just like Monica Rose, she is often spotted with her client, the infamous Kim Kardashian. Not because they are besties, but because she has to be certain that Kim's high fashion image is intact when the paparazzi is nearby. She is there to handle any errors on the red carpet that could occur.
When attending an event or fashion show, a fashion stylist is not there for the complete fun of it, they are there for networking. They are talking to the media about what their client is wearing; they are talking to potential clients and they are trading industry inside information to stay in the know. A professional stylist is looking for the next big event that can catapult their career. The work is ongoing because they are passionate about what they do and they wouldn't have it any other way.
Do you have what it takes to be a fashion stylist? Everything is possible through hard work and dedication to your craft and when you are armed with knowledge your success is inevitable.
Photo Credit: Italian Vogue// jessica-ramohoebo.blogspot.com // careerconfessions.files.wordpress.com// Paper Magazine // laurenmessiah.com// theschoolofstyle.com// Stuart Wilson (Getty Images)
(Visited 241 times, 1 visits today)