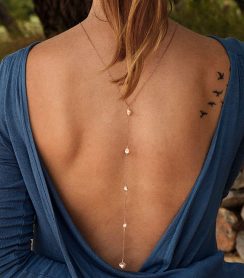 Freshwater pearls usually come from China's pearl farms and are the beautiful product of an elaborate process involving mussels that can be harvested multiple times. The advantage of it is that these mussels can yield several pearls at a time, being surgically implanted with 24 to 32 tiny pieces of mantle tissue, although a single one is capable of producing up to 50 pearls at a time. In addition to that, this type of pearls can be created in a spectrum of colors – from white and orange to pink and other pastels – using mostly natural means. This way, you can chose a freshwater pearl necklace color that can complement your skin tone and even wardrobe preferences.
In case you always wanted to wear real pearls, but the innate elegance of a freshwater pearl necklace gave you minor headaches as you did not know exactly when to where it or how to choose the proper one, we might be able to help you. Lucky for you, there are numerous options, from different types of necklaces to different shapes and colors of the pearls. So relax, sit back and enjoy our suggestions that might just sparkle your interest and turn you into a huge freshwater pearls fan.
1. Single Freshwater Pearl Necklace
You are born in June and you want to celebrate your birthday with an outdoor party in your backyard? This type of necklace is clearly one of the most simple and beautiful designs for pearl sets. A green summer dress with a single pearl necklace will give you a stunning appearance, as pearls are your birthstone and there is nothing that could look better on you than this pendant necklace. Do not forget to smile, it does not cost a thing to do that.
2. Multicolor Freshwater Pearl Necklace with a 925 Sterling Silver Fishhook
You have a business meeting tomorrow where you are supposed to hold a presentation in front of all the board members? Choosing the perfect outfit and matching jewelry set should not be a new cause for concern. Wear a dark blue dress or even a suit and go for this multicolor freshwater pearl necklace that is the most versatile option. The black, white and pink pearls with a 6-7 mm diameter will be shimmering with a dazzling gleam, making your appearance more than graceful. You cannot put a price on beauty.
3. Baroque Freshwater Pearl Necklace
Tonight is girls' night out and your friend already told you that the destination is the newest and most bohemian bar in town. You need to look gorgeous, but not too sophisticated. Choose a baroque freshwater pearl necklace with cream and silver grey pearls, that will go great with a more darker outfit, like a black dress or a shirt and skirt of the same color.
4. White Freshwater Pearl Necklace
Out of all freshwater pearl necklaces there are on the market, nothing spells beauty more than a white pearl necklace. These 6-10 mm pearls are so glamorous that any costume you choose will make you look dazzling. The 925 Sterling Silver forms a very elegant pattern and the charm of the necklace makes it suitable for all types of high business affairs. If you ever get invited to a party at the White House, this is the right choice.
5. Freshwater Cultured Pearl Necklace
Keep things casual, yet aesthetic, with this choker consisting of 9.5-10.5 mm pearls on a black leather cord. This natural and wild looking piece is perfect for a day spent at a fair or visiting your friend's horse farm, you do not have to give up on pearls no matter the occasion, they match with almost every outfit if you know your way around stylish combinations.
6. Pink Freshwater Pearl Necklace
You can wear this perfect piece to any party that you like, you will definitely look like a star. This pink freshwater pearl necklace consists of 16 7-8mm pearls that are strung on a double knotted fine silk thread, each one of them being separated by the other through a hand tied double knot. This way, they preserve their surface and value, so you can leave this luxurious item as inheritance to your future daughter or granddaughter, it will shine as beautifully on them as it did on you.
7. Freshwater Pearl Necklace and Earring Set
If you are a fan of jewelry sets and you want some earrings next to your pearl necklace, go for a silver baroque pearl set that you will be able to wear on any occasion you want. And if you already planned your summer and you are going to spend your free weeks at the beach, this jewelry set will match perfectly with your tan.
There is always the option of the endless strand of pearls, where the number can vary up to 100 or even more. They will give you the look of a woman from the 1920s, so wear them at a chic party or a dancing event. You can choose to wear them in a single strand, a double strand or even a multi-strand, the most adventurous style. You have the possibility of wearing pearl rope, pearl drop or coin pearl necklaces, if you like large and long pieces, which go perfectly with cleavages.
You can also create your own necklace based on your preferences, by buying pearls inch by inch. This way, you can combine the colors and shapes that you think might look good on you, you can adjust the length of your necklace, you can make your own earrings and even bracelets. Another advantage of choosing freshwater pearls is that not only do they look charming due to their unique shapes and diverse colors, but they are also affordable for every pocket. Regardless of the choice, a modern woman should always have a freshwater pearl necklace in her jewelry box, as a token of her chic and classy style.
(Visited 197 times, 1 visits today)