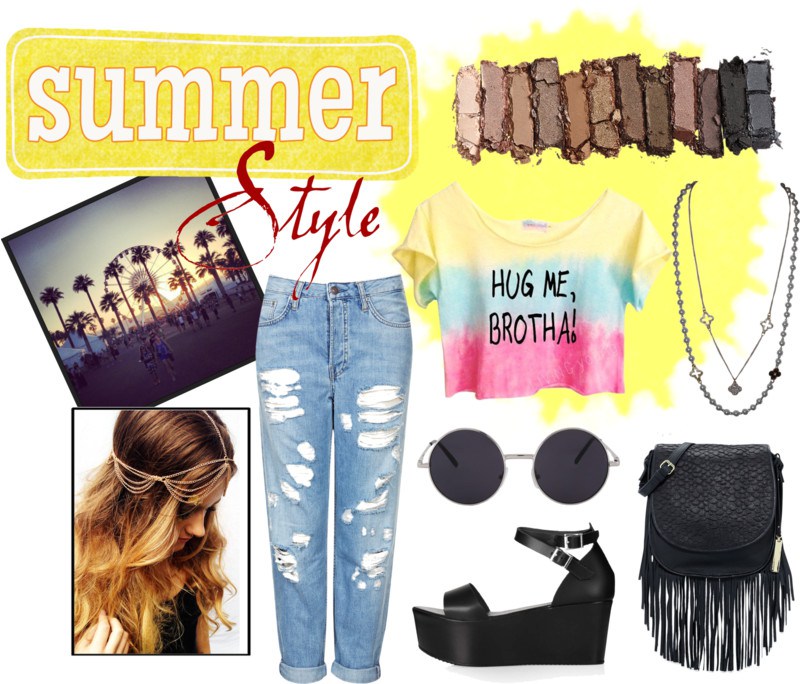 "Hi Ms. Elitou!
I am twenty-two years old and I am extremely excited for all the upcoming festivals this summer, so to the point that I am planning my style. I am really into the crop top style and I have fell in love with this tie dyed top so I am hoping that you can help me create a look that will not only include the above mentioned, but also trendy styles that are "in" today! I must also mention I am a huge fan of pearls but I have no idea how to make it all work without being a fashion faux pas. Do you have any style advice?"
-Megan T.
Hi Megan! It is a very exciting time indeed!
Festivals are appearing everywhere and I know it may be hard to find looks that are most appropriate for the upbeat environment which includes fashion, fun, music, and comfort.
Above I have created a really fun and stylish layout that you can use as an inspiration and guide to incorporating everything you want into one look!
I have added the following trends:
A tie-dye crop top
Boyish shape jeans
'Flatforms' (the combination of flats and platforms)
A Fringe shoulder strap bag
Sharp Shades
And last but not forgotten, pearls!
When adding pearls to such an edgy look it is important to look for the less traditional pearl style. Look for an untraditional color like black and opt for a longer style with layering. It makes it fun while allowing you to wear the classic style.
I truly hope this helps! Be sure to enjoy yourself, be safe, and dance the night away!
-Ms. Elitou
If you have any pearl related questions feel free to contact us on our Facebook, and we will be sure to answer it as soon as possible!
(Visited 202 times, 1 visits today)